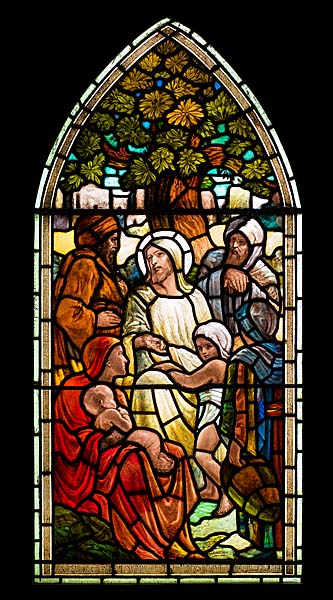 Stock No: 2897
An antique stained glass Arts & Crafts painted window, depicting The Saviour preaching, signed by J. Eadie Reid, dated 1915, and dedicated 'A M D G in memory of Thomas Pott, died July 21st 1914'.
English Early 20th century.

Note: J. Eadie Reid was associated with C R Ashbee, John Middleton, Prothero and Phillpiott the Cheltenham architects. Our research indicates he did stained glass work in St. Stephen's, Cheltenham, painting in Ipstones church in Staffordshire and did illustrations for The Guild and School of Handicraft, Essex House 1890, which was founded by Ashbee in association with Holman Hunt and Alma Tadema amongst others.

Link to: Antique Doors and Windows.
Listed Price: £2,300 ( + vat in EU zone )
width
height
27 1⁄2"
69.8 cms
60"
152.4 cms