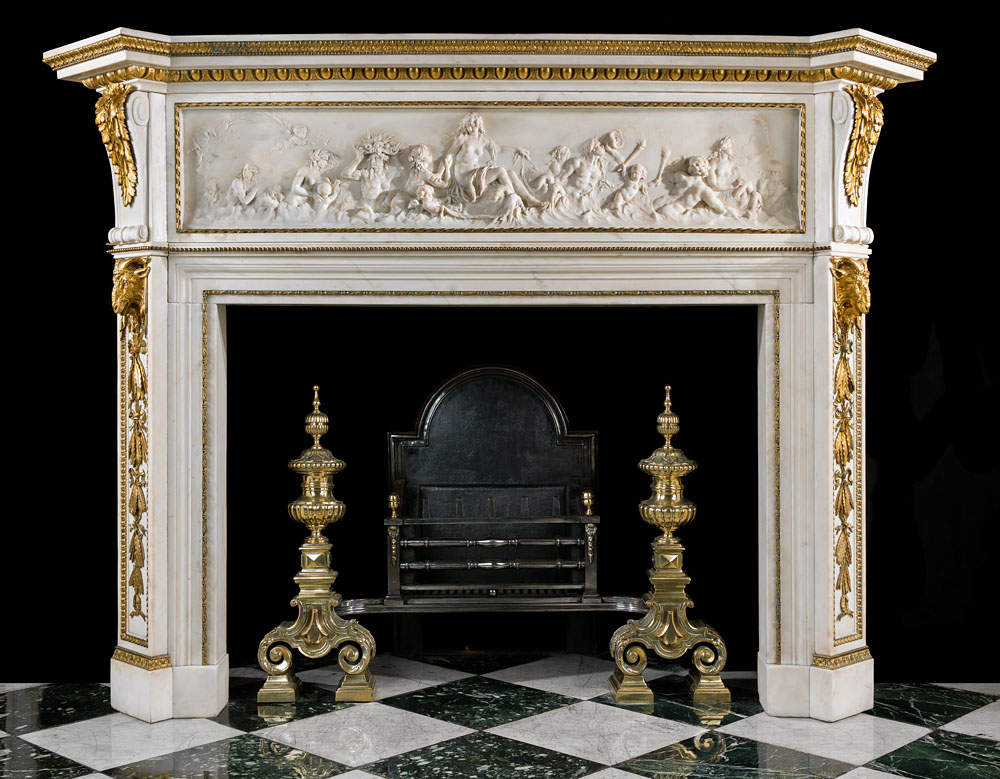 Stock No: 14251
A rare 19th century Statuary Marble and ormolu chimneypiece in the French Regency style with a large, exquisitely carved 18th century panel after Clodion (1738 – 1814).

The fireplace, originally in the drawing room of Brook House, located at 113 Park Lane in Mayfair London, was made to accommodate the extraordinary18th century panel which was probably acquired during a Grand Tour.
The panel depicts 'Le Triomphe d'Amphitrite' who can be seen in the centre riding a dolphin attended by putti, tritons(mermen) and nereids(mermaids). Finely applied ormolu, set beneath the cornice shelf and on the jambs and sides, frames the panel and there are intricately detailed ormolu rams heads and tumbling festoons adorning each jamb above which are corbels embellished with large ormolu acanthus leaves.
Provenance: Brook House, Park Lane, Mayfair, London. English late 1860s.

Notes on Amphitrite & Poseidon.
Amphitrite was one of the fifty Nereids who were attendants of the sea-god Poseidon. On first seeing Amphitrite Poseidon fell deeply in love and ardently pursued her. When she fled his wooing he sent dolphins after her who finally persuaded her to return to become his bride. The bearded figure on the far right of the panel could well be Poseidon himself.

Notes on Brook House.
Brook House was built in the French style from 1867-1869 by the architect Thomas Henry Wyatt for Sir Dudley Coutts Marjoribanks, the 1st Lord Tweedmouth. The interiors were designed by the renowned 19th century decorators Wright & Mansfield who were strongly influenced by French design. Please see photo below of the Brook House Drawing Room which shows the fireplace in situ. The photograph is courtesy of the Country Life Archives and was taken by Charles Latham in 1902 for The King Magazine and later included in 'London Interiors' written by John Cornforth and published by Country Life.

Ernest Cassell, private banker to Edward VII, bought Brook House from Lord Tweedmouth in 1904 and lived there with his granddaughter Edwina Ashley who later became Countess Mountbatten when she married Louis Mountbatten in 1922. Louis Mountbatten, 1st Earl Mountbatten of Burma was the uncle of the present Duke of Edinburgh. Their marriage was attended by the then King and Queen and the Prince of Wales and the reception was held in Brook House. The couple later moved into a suite on the third floor. The house was mostly demolished and rebuilt in 1933–5 with neo-Georgian designs similar to the neighbouring houses. Each floor had a single apartment and the Mountbatten's double-story penthouse, completed in 1937, was reached by a private, express elevator. The lower apartments were rented out and one of the early occupants was Harry Selfridge, who occupied an apartment there in 1936. The property was further remodelled in 1998 incorporating 16 new luxury apartments.

Link to: Antique English Regency chimneypieces inc. George IV fireplace mantels.
Width
Height
Depth
External
88 5⁄8"
225 cms
65 3⁄16"
165.5 cms
22 3⁄8"
57 cms
Internal
53 1⁄2"
136 cms
40 5⁄8"
103 cms