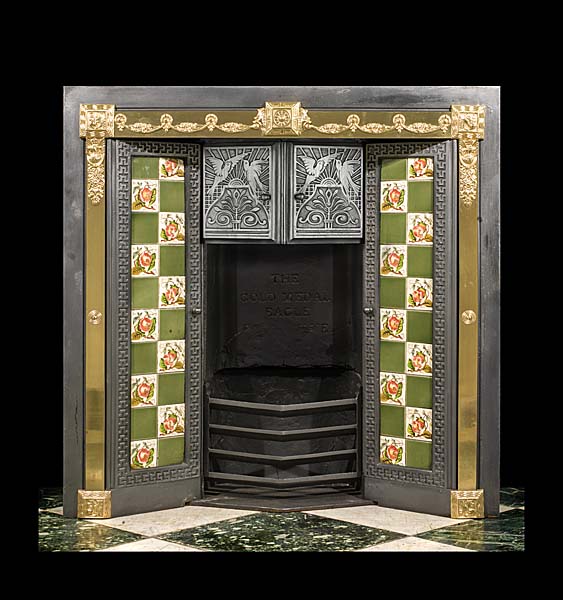 Stock No: 13709
A rare cast iron and brass mounted Victorian, Aesthetic Movement "Gold Medal Eagle Grate", manufactured by The Eagle Foundry Ironworks in the late 19th century in Oxford. The outer frame of this fireplace insert is decorated with swags, lion head masks, birds and foliate detail and has two large doors inset with hand coloured tiles decorated with Cobaea Scandens flowers, ( common name 'The Cup and Saucer Vine' ). These doors are set either side of a further three sets of small cast iron doors decorated with further stylised birds and flowers. The top set of doors would remain closed when in use to act as a hood, the other two sets would be used to control the heat from the fire. All doors would normally be closed when the grate was not in use.
English mid 1890s.

Notes: The Eagle Foundry Ironworks, founded in 1812 by was moved a site beside the Oxford Canal, in Jericho, Oxford England in 1825. It ceased production in 2005 and was demolished in 2007.

Link to: Antique Fire grates and Register grates.
Width
Height
Depth
39 3⁄16"
99.5 cms
38 13⁄16"
98.5 cms
18 1⁄8"
46 cms