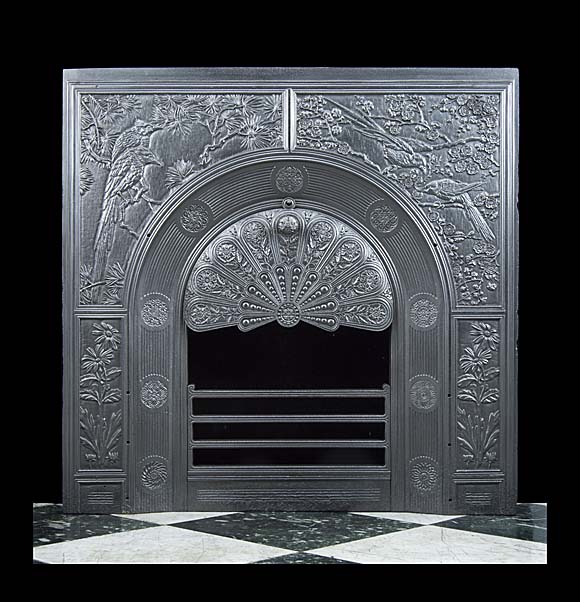 Stock No: 13449
A beautiful and rare Thomas Jeckyll cast iron Stove Front made by the East Anglian Ironworks Company Barnard, Bishop and Barnards (1826-1955).

One of a series of decorative fronts that Jeckyll designed for Barnards for their very popular Slow Combustion Stoves. In this case Jeckyll adapted designs he had created for the 'Thomas Jeckyll Pavilion' which was exhibited at The Philadelphia Centenial Exposition in 1876.

Thomas Jeckyll (1827-1881) was a 19th century Aesthetic Movement architect and designer and one of the leading pioneers of the Anglo-Japanese design. He was responsible for some of the most innovative and evocative Aesthetic Movement interiors of his day most notably the 1876 restoration and redecoration of 49 Prince's Gate, London, the home of shipping magnate Frederick Richards Leyland.

Although he was a successful architect, Jeckyll is best remembered today for his ground breaking designs in metalwork and it was his exhibition pieces for Barnard, Bishop & Barnards that brought him his greatest renown and set in motion the 19th-century wrought iron revival in Great Britain. He was one of the few figures in the design reform movement in Britain who successfully united beauty and utility.

This stove would have been sold complete with a matching fender and ash tray, please see Barnard's advertisement below.
English Circa 1878.

Link to: Antique Fire grates and Register grates.
Width
Height
Depth
External
41 1⁄4"
105 cms
39"
99 cms
2 3⁄8"
6 cms
Internal
17 7⁄8"
45.5 cms