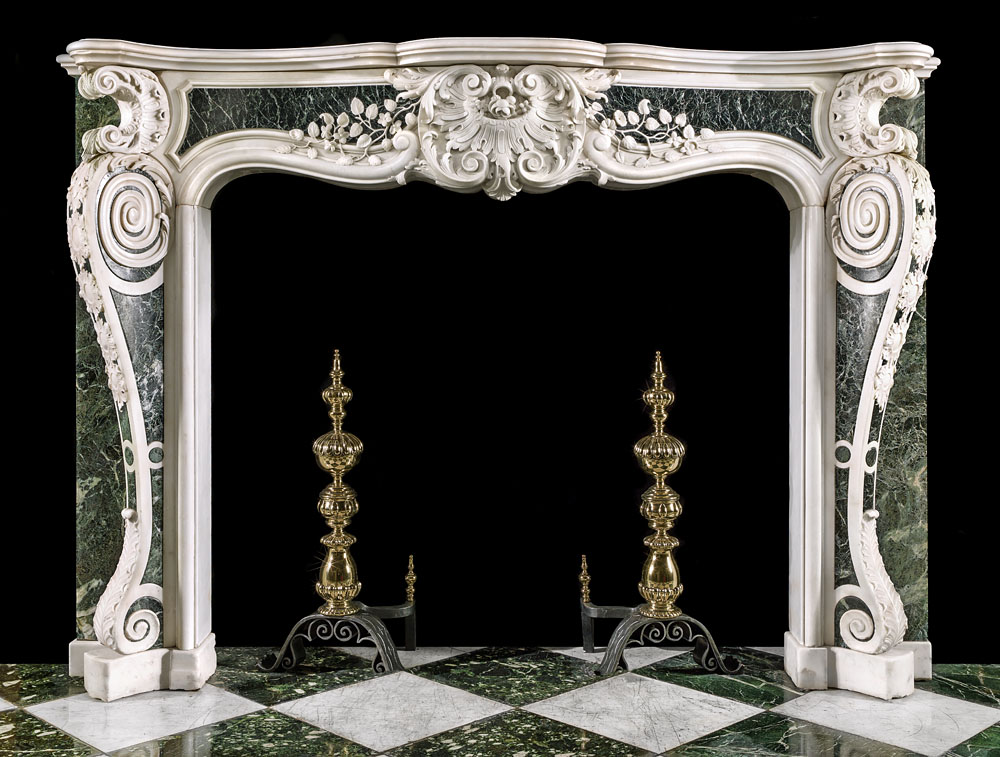 Stock No: 14549
A large, rare and imposing late George II English Rococo chimneypiece with strong Palladian influences carved in white Statuary Marble and inlaid with panels of Verde Tinos Marble. The panelled frieze, beneath a moulded serpentine shelf, is centred by a richly carved 'pelta' scroll cartouche with very finely carved trailing jasmine sprigs flanked on the endblocks by large C Scrolls. The generously scrolling, canted console jambs, with linked cartouche and acanthus detail, terminate in single hart's tongue fern fronds and are supported on simple foot blocks. Provenance: The Earls of Minto, Minto House, Roxburghshire, Scotland.
Scottish, circa 1750-1760

Shown here with andirons SNo 10202 now sold.

Minto House Notes:
This 18th century chimneypiece was selected by the 4th Earl of Minto to be installed in the Octagonal Drawing Room of Minto House by the decorators W. Turner Lord & Company, of 120 Mount Street, Grosvenor Square, London, whose estimate for the works was dated 18 September 1891. The tower of an earlier property had been incorporated by William Adam in his design for Minto House around 1740 and the House has subsequently undergone various expansions. One was carried our by Archibald Elliot at the beginning of the 19th century, it was further altered by William Playfair in 1837 and was finally enlarged by Robert Lorimer at the end of the 19th century. Minto House was owned by the Elliott family and the Earls of Minto for several centuries but from the mid 1960s it began to fall into disrepair and suffering from increasing neglect it slowly deteriorated to a state where it was finally demolished in 1992.

Link to: Antique Rococo Chimneypieces inc Louis XV English Scottish Chippendale Rococo fireplace mantels.
Width
Height
Depth
External
83 1⁄2"
212 cms
61"
155 cms
13"
33 cms
Internal
56 1⁄4"
143 cms
46 1⁄2"
118 cms