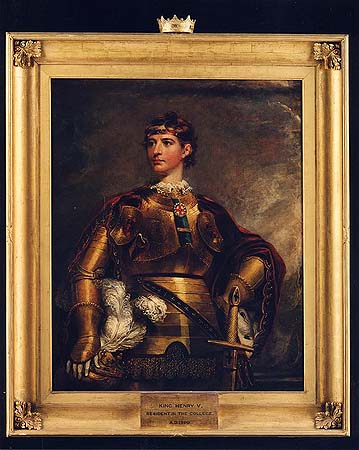 Stock No: 3829
3829 HENRY V. A large oil on canvas portrait in the original Regency gilt frame of Henry V King of England (1413-1422) wearing a medallion with the cross of St George hanging from a chain around his neck.
He was one of the great warrior kings of medieval England, famous for his victory against the French at the Battle of Agincourt. Born in Monmouth 9th August 1387 the son of the then future Henry IV he died suddenly in Bois de Vincennes near Paris on 31st August 1422 aged 35.
Provenance: Painted by Benjamin Bernard R.A. it was exhibited at the Royal Academy in 1818, was given to Queens College Oxford by Dr Smith & hung in the Great Hall there. Listed in Vol II of Mrs R L Poole's Catalogue of Oxford Portraits nos 8 & 13.
English School early 19th century circa 1815.
Ensuite with Stock No 3828 The Black Prince.
width
height
with frame
52 3⁄16"
132.5 cms
67 1⁄4"
171 cms
without frame
39 3⁄8"
100 cms
49 3⁄8"
125.5 cms