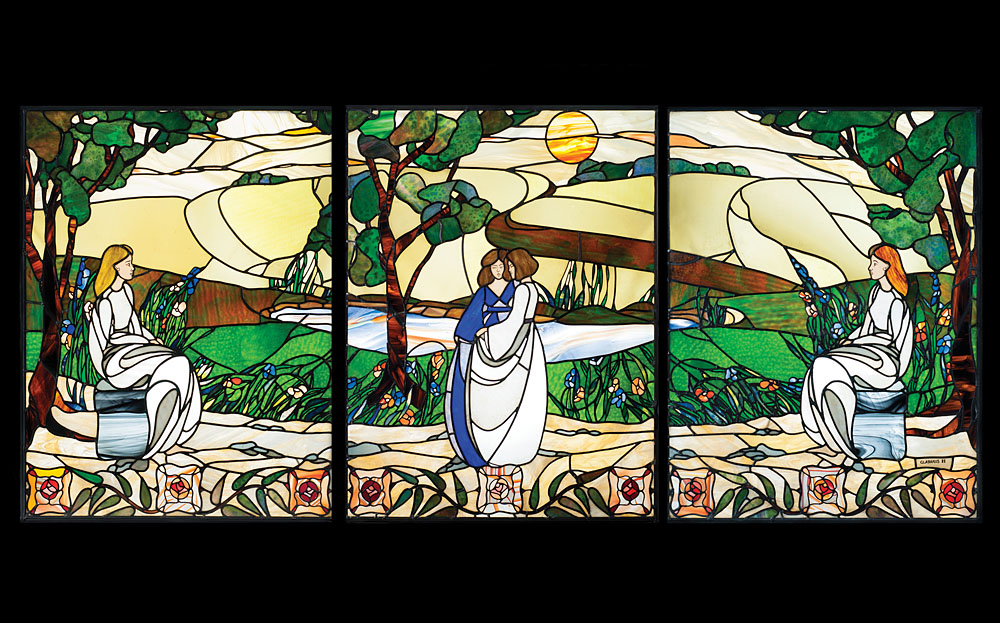 Stock No: 12433
'GATHER YE THE ROSEBUDS'
A 20th century Art Nouveau style stained glass tryptich of maidens in a woodland setting. The enamelled logo at the back of one of the panels states ' Glashaus 88 ', they were a Glasgow company of stained glass makers and restorers who were commissioned to make the panels in 1988 for The Princes Casino in Glasgow.
With restorations. Signed & dated 1988.

The figures in the central panel are very similar to those depicted in a window designed in 1902 by Ernest Archibald Taylor (1874 -1951), who trained at the Glasgow School of Art, for the industrialist William Weir entitled 'Gather Ye the Rosebuds'. His panel is illustrated in the book Scotland's Stained Glass by Michael Donnelly, image below.The title is probably a reference to the poem by Robert Herrick (1591 - 1674)

'Gather ye rosebuds while ye may,
Old Time is still a-flying:
And this same flower that smiles today
To-morrow will be dying.'

It points to springtime with a warning and awareness of the swift passage of time and with it the inevitable loss of youth and beauty.



Link to: Antique Doors and Windows.
Listed Price: £6,800 (+VAT where applicable)
width each
height each
overall width
35 5⁄8"
90.5 cms
46 1⁄2"
118 cms
106 11⁄16"
271 cms